Steel Balcony Construction – Steel railings are commonly used in architectural construction, including balcony iron railings or stair railings.
Because it is both a decoration, creating accents, attracting, showing class, beauty, and luxury, it also helps to protect users safely.
Due to being processed by iron, designed according to needs, achieving high aesthetics, suitable for all living and working spaces to ensure safety for all works.
When choosing to make iron railings, it is necessary to pay attention to both ensuring aesthetics, durability, certainty, and safety of users as well as being suitable for the project and at a reasonable price.
Steel Balcony Construction – Classification of steel balcony railings
Simple and modern iron balcony railing
This railing is processed, manufactured by box iron or iron pipe, the iron bars are knitted vertically, horizontally, using cubes that are usually square, round, and flat.
With this railing model, it is often used when the house or building is built in a modern style. With the design is simple lines, few patterns. Popular colors are light tones suitable for civil works to bring modern beauty to the house.
Artistic, classic iron balcony railing
With this railing model, it is often used when the house or building is built in European and classical style.
They have sophisticated, winding patterns and motifs, the main colors used are copper gold, red metal, jet black, dark brown, … showing majesty, magnificence, and superficiality and wealth of the homeowner and highlight the classic features of the house.
This iron railing is usually processed and produced such as die casting, hand or machine bending and manual forging.
Art balustrade: The raw material is usually aluminum, cast iron or alloy steel, which is cast by heating, melting the material and then pouring it into pre-shaped molds.
CNC machined steel balcony: Steel balcony whose patterns and textures are shaped by modern CNC cutting machines to create strange, unique and impressive artistic iron balcony railings.
Handcrafted wrought steel balcony: Steel balconies are made entirely by hand from the hands of the blacksmith, without using any modern tools and machines.
Currently, there are very few units that construct this type of iron because the cost is quite high and at the same time, manual wrought iron depends entirely on the skills of the blacksmith, so the output is not much and uneven.
Advantages of steel balcony (iron balcony railing)
Safe use:
Because steel has the advantage of being durable, sturdy, and has high hardness, iron railings ensure absolute safety when used, along with the development of chemical technology, it is possible to limit the disadvantages easily oxidized, so the iron railing creates more durability over time for the works.
Durability over time:
With the technology of painting, welding and powder coating to minimize the disadvantages of iron, the steel balcony is always durable and beautiful over time, even with an outdoor steel balcony.
High aesthetic value:
Artistic iron railing is a work of art for the house space, especially the iron stair railing which is the center of the house that always shines, luxurious.
Because with the technology of bending, welding, splicing and shaping of iron, creating a new and artistic iron railing product that is solemn, delicate, elegant or natural, … with the highest aesthetic value, true to its artistic nature.
Various designs:
Iron railings are diverse in designs, designs, patterns, colors, and are sophisticated in each angle to suit the overall architecture of different works.
Bring high value:
Artistic iron railing not only affirms the name, personality and aesthetic value of the homeowner, but also affirms the value of each project.
Create coolness:
With balcony iron railing not only creates aesthetics but also creates coolness for the house. In addition, the beautiful balcony railing is also easy to decorate with climbing flower pots to create more natural beauty for your balcony space.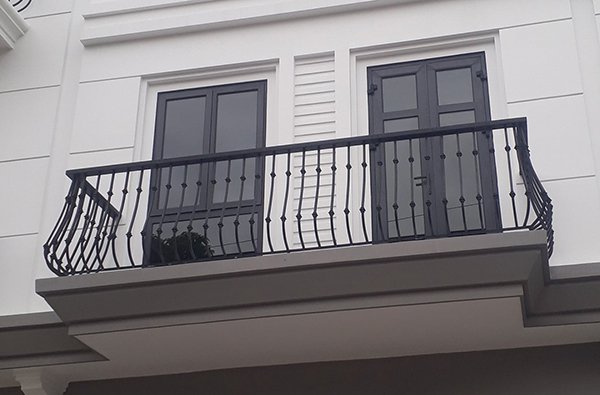 Suitable for all projects:
Iron is a metal present in every building. Iron is easy to construct, creating a variety of designs, so iron railings are suitable for all works from classical to modern styles, bringing mysterious, ancient, noble, majestic and luxurious beauty.
Sum Up
Above is all information about steel balcony construction. Hopefully, you can find more impressive information from this post. Don't hesitate to leave a comment below if you have any questions. Thank you so much!